(To get from Kether to Tiphareth)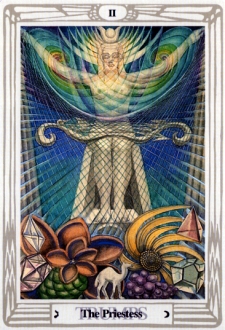 Thoth, Crowley-Harris
I found this image of the Priestess online. Its colours are quite vivid compared to my current two editions of Thoth Tarot; I wonder if someone blinged them digitally or if it's from a different edition of the deck. I hope it's from the 1986 printing, because I just ordered one of those from an ATer. If that deck is as gorgeous as this card image, I will be one very happy bunny!
Thoth, Crowley-Harris
I still wonder why so many of the cards in Thoth seem to push human or human-like figures into the background and shroud them behind layers. The Fool is behind his coiling hoola hoops, the Empress is behind big transluscent bubbles, the Hierophant is behind a Star of David, the Hermit is behind rays of light. The Queen of Cups especially reminds me of the Priestess, obscured as she is behind watery ripples and waves. It bothered me at first, that you couldn't see the figures clearly, but I'm more used to it now. I think it's probably just to emphasize that the figures are not
us
, they are not people, they are concepts. They're not meant to look like or be thought of as human beings.
Haindl
I bought the Haindl Tarot before I ever bought a copy of Thoth, and read online that it was a 'Thothy' deck. I didn't know what that meant, having only ever worked with RWS-based decks. But at least now I have found out why there is a camel on the Haindl Priestess (sort of). There is a camel on the Thoth Priestess, too. If you look a the bottom of the Priestess card, you will see the Hebrew character 'gimel'. It is the third letter of the 22-letter Hebrew alphabet, and the Priestess card is the third card of the 22-card tarot majors suit. 'Gimel' means 'camel'. The Priestess card connects Kether (Crown) with Tiphareth (Beauty) on the Tree of Life. This pathway goes across a bit of the Tree of Life called 'The Abyss', which brings to mind that the camel can cross an 'abyss' of desert. Ohhhhhh. So
that's
why there's a camel on the High Priestess.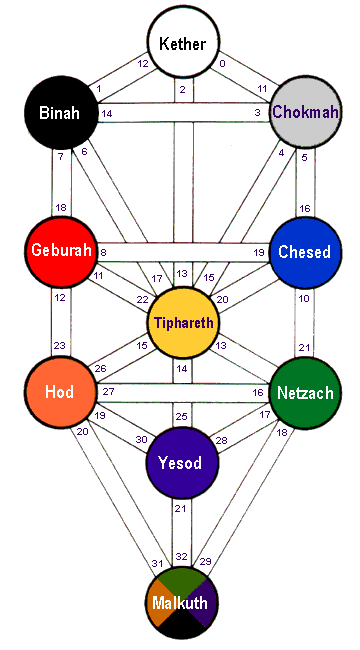 'As the only middle-pillar path that spans the Abyss,' writes Lon Milo DuQuette, 'the position of the High Priestess on the Tree of Life is unique. She links the ultimate Father of Kether to the Son of Tiphareth and, in so doing, joins the supernal triad to the rest of the tree. The Abyss she traverses is, quite literally, the desert of the soul, and like the desert camel, she is the only vehicle capable of crossing that terrible waste land.'
Aleister Crowley says, 'In this card is the one link between the archetypal and formative worlds.' But, one wonders, what about the 'as above, so below' powers of the Magician? Oh well.