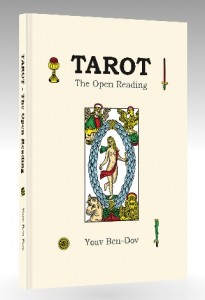 I haven't had much dealing with the Tarot de Marseille, and the main reason is that I think the majors and courts are, to be frank, extremely ugly. And yet, I find the pip cards gloriously beautiful, and so I keep finding myself drawn to the deck. I do love unillustrated minor cards (or 'pips only' cards, as I like to call them), and the TdM pips are wonderful, particularly the swords suit, with its amazing curving shapes,and the coins, with all those scrolling vines and leaves twining around the disks. If it weren't for those god-awful majors...
A few years ago someone gave me the Jean Noblet TdM. I tried to like it but I just couldn't get into it, and it was considered such a special deck that I felt bad about it sitting ignored in my collection, so I traded it. (I can't even remember what I traded it for now, but chances are that deck, too, has been traded or sold, because I do ruthlessly cull my collection of decks.) The only reason I bought the my current TdM is because I read about it on Facebook (darn you, Facebook!) and thought I ought to have one TdM that is considered 'correct' -- whatever that may mean. I trust those who know better than me in that regard. (You, Caitlin Matthews!)
Which brings me round to today's post, a review of the
CBD Tarot de Marseille
(Yoav ben Dov, 2010) and the companion book,
Tarot: The Open Reading
(sold separately). The full title of the deck is 'CBD Tarot de Marseille: A faithful reproduction of the traditional Tarot based on the standard deck printed by Nicholas Conver 1760, restored and adapted by Yoav Ben Dov.' I just call it 'CBD Tarot', which is an acronym for 'Conver-Ben Dov'.
The Deck
Ben Dov says he didn't set out to create a tarot deck, but rather to write a book about tarot. During the course of writing the book, he realized during the process of copyright negotiations that he might as well create a deck himself. Using several Conver decks, he kept the original lines, including their bizarre anomalies, and selected shades of the original colours. If it was red in Conver, it's red in CBD, but of course Ben Dov had to choose the shade. He also made adjustment to faces to be more appealing to modern eyes. He commissioned an illustrator to draw the lines of the original by hand, then a digital graphic designer to correct line details and add titles and colour. He then tweaked the designs digitally himself, and there we have the CBD Tarot de Marseille. The deck can be purchased online at www.cbdtarot.com.
It comes in an off-white tuck box featuring an illustration of the World card on one side, and the figure of the Fool on the other. The box has Hebrew writing on it (because Yoav Ben Dov lives in Israel, though the deck is printed in Belgium), but the LWB is in English. The 63-page LWB is well written, with decent sized print for easy reading. The tuck box itself is fairly sturdy and should stand up to gentle handling.
The full deck measures 12 x 6 x 2.5 cm (4.75 x 2.5 x 1 inch, approximately). It is a long, skinny deck. Some people like that, and consider it 'tarot shaped'. I prefer a chunkier shape, but never mind. All of the cards have white backgrounds, not stark white but not off-white. They are noticeably white. The deck has eight colours: white, black, yellow, red, blue, light blue, green and 'flesh colour', a red-beige. Each of these colours has taken on symbolic meaning to TdM readers, and one of the reasons I wanted this deck is that it is acknowledged (by those who know) as having 'correct' colours for a TdM, which apparently is significant if you want to read the TdM in a traditional way. (I am just getting my head around traditional cartomantic techniques using the TdM.) The titles of majors are in French. The serial numbers on minors are on the left and right sides, or not at all. There is an extra blank card ('carte blanche') which can be seen as a wild card in readings. The card backs are a plain but pleasant blue design. Here's a major, a minor with number, a minor without number and the card back:











The card stock itself is supple and soft, riffles like a dream straight from the box, and has very slight waxy feel. No lamination to speak of; if it's there, it is very light indeed. It is really lovely stock, neither too thick (like Tarot Illuminati, Enchanted Lenormand, or Tarot of the Sidhe) nor too thin (like Druidcraft).

The Book
The book has a similar plain off-white cover with The World on the front and The Fool on the back. I ordered mine from Amazon. It is available in paper or Kindle format, and just came out recently. This 259-page book consists of eleven chapters, plus card interpretations. In the usual manner, the majors get several pages each, while the minors receive only a half page each (less than half a page, really, as a large chunk of space is devoted to a black and white image of the card), and actually about half of the text for each card is devoted to a description of what the card looks like. I've never understood why companion books do this. I can see the card. I can see the illustration of the card. I don't need you tell me what it looks like, I need you to tell me what you think it means, please. But oh well. In essence, each minor card gets roughly 6 lines of interpretation. The same material is in the LWB that comes with the deck. This is not unusual in tarot publications, but I do wish a little more thought would be put into the minors. I think minor cards are underrated.

The chapters in this book are:
1. The Tarot Deck, in which Ben Dov gives an introduction to the history of tarot and overview of the French and English schools of tarot.
2. The Reading Session, in which he gives his ideas about the proper way to set up a reading space and conduct a reading.
3. Reading the Cards, which is more of Ben Dov's thoughts on how to go about a 'proper' reading.
4. The Symbolic Language, in which we get information about directions, colours, numbers, figures and body parts.
5. The Major Suit, which takes a close look at the majors, and of course goes into the 'Fool's Journey'.
6. The Major Cards
7. The Minor Suits, in which we are instructed in the meanings of suits and their correspondences
8. The Ace Cards
9. The Court Cards
10. The Number Cards, where the minors are looked at individually
11. Additional Spreads
and then Quick Interpretations.

So far I have read through Chapter 4, and skimmed the rest of the book (I will finish it this week, I hope) and I believe that, armed with this book and deck, a beginner could start out with the Tarot de Marseille and do quite well, learning traditional cartomantic principles and techniques, without all the Golden Dawn bumpf you encounter in a Rider Waite Smith deck. I have said before that I wish I had started with the TdM, but it didn't work out that way for me.

All the information in this book seems to me be entirely solid and acceptable to firm tarot tradition. There is nothing here that is idiosyncratic or highly personalized. Some of Ben Dov's thoughts on how a reading should be conducted are his personal opinion, and it would have been nice to see a few alternatives given, but that is a minor point. In most cases, he does do that.

I think this book and deck set is a must-have for tarot enthusiasts. I see it as my definitive (and probably only) Tarot de Marseille, and the book is certainly the best and most expansive guide to the TdM I have yet seen, written in English.

To me, the definitive collection for any tarot newbie would be this:

CBD Tarot with Tarot: The Open Reading by Yoav Ben-Dov
Yellow Box Rider Deck with Seventy-Eight Degrees of Wisdom by Rachel Pollack
Green Box Thoth Tarot with Understanding Aleister Crowley's Thoth Tarot by Lon Milo DuQuette

If you were to lay your foundations with these three decks and books, I have no doubts you could go on to read with anything out there.